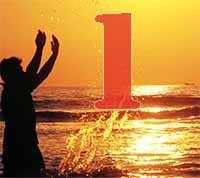 Destiny (Expression) Number 1
(1, 10/1, 19/1, 28/1, 37/1)
The Destiny number 1 assumes that the orientation on development in your life will be directed on self-sufficiency, total independence and building up your life to become a leader. The name you have may help you obtain leadership skills and useful talents to become a great administrator, chief or executive. You have a great inner potential and all you need is to find the proper way to develop these gifts. You are especially skilled in problem-solving, innovation introduction, and in finding keys to every situation and person.
Look at your Life Path number - if you don't need someone's guidance and help, be ready that you will become a guide and an example for someone. In such case, you know how to cope with stressful situations, and how to understand the details. But in case if you need someone's help, with personal growth you will need more supervision and advices.
During your lifetime you will be searching for wide range of opportunities in career field and you will look for different ways to use your innovations and investigations there. So now you should train your brain to reach your goal in future. You have a great mind potential, so use it for your development. You are always on the step ahead because of your potential and can use it for financial success. Such Destiny applies to people who want to have their own business or who strives to success and independency. With efforts and persistence everything is possible.
When you reach the peak of your maturity you should be ambitious and focused on your goal. In order to achieve all these, you need to exploit stable power of will and be 100% sure of your goal and its accomplishment, here self-reliance and courage will be needed.
The number 1 Destiny shows your tendency to be easily bored without acting, and a great fear of routine, you don't see yourself living day by day without something interesting being in your life. That is why you often rashly risk. The negative side of number 1 Destiny is that such people are often narcissists and have egocentric view on the world. This number often means aggression and hot temper which are hard to live with. You need to control your rage and aggression (if happens) to normally lead and control people. So people will follow your guidance willingly.
Destiny or Expression Number 1
Destiny or Expression Number 2
Destiny or Expression Number 3
Destiny or Expression Number 4
Destiny or Expression Number 5
Destiny or Expression Number 6
Destiny or Expression Number 7
Destiny or Expression Number 8