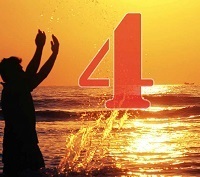 Destiny (Expression) Number 4
(4, 13/4, 22/4, 31/4, 40/4)
The Destiny number 4 assumes that the orientation on development in your life will be directed on the discipline, work, and administrative competence. After a while you should develop the skills that make you more realistic, practical, accurate and professional. Number 4 Destiny people should be ready to become workaholics, if needed, and to do their best in order to complete the project.
If you become more detail oriented then you may be professional in areas like engineering, construction, and other types of crafts. You will even be able to write and teach but in more technological sphere. Your artistic skills will be tightly connected with the technological part of your mind. You will show yourself in horticulture, floral arrangement and landscape design. A lot of professional surgeons and doctors have Destiny number 4. Number 4 obtains universal set of skills that helps in any sphere that needs organization, control, accuracy and calculation.
People having 4 as a Destiny number, especially with master number 22, can promote a lot of startups in the material world. People like you often hear praises about the quality of the work done. If you are determined and focused you can become a professional that is a treasure in a particular field.
Person of this number has high moral level and looks for friends with equal moral level. It is quite hard to find the one with such high and stable standards. So number 4 is often disappointed in people because of high expectations. You will be happy with realistic, down-to-earth and altruistic people as well as you are.
The shortcomings of the number 4 are their wish to dominate and control. If 4s happen often in your numerology chart, you can feel the negative influence of this number. The duties and obligations suppress and restrict you. All 4s, especially from the master number 22 see no border, and from unconventional methods they create really odd things. This feature can often be dominant in the 4 Destiny numbers. Be attentive and avoid obstinacy, stereotypes, and narrow-mindedness. Your personality is very versatile, develop flexibility and think over the edge, accepting different points of view and avoiding prejudices.
Destiny or Expression Number 1
Destiny or Expression Number 2
Destiny or Expression Number 3
Destiny or Expression Number 4
Destiny or Expression Number 5
Destiny or Expression Number 6
Destiny or Expression Number 7
Destiny or Expression Number 8